How to make a Vista Print Yard sign
Step one – go to Vista Print's Yard Sign page (Click Here)
"Browse our Designs" is already selected.
Step two – pick a size by selecting the circle next to 'small' or 'large'
Click Continue.
Step three – Select design. I selected the "Phone / Other * Company Name * company message" design with the blue frame for this tutorial.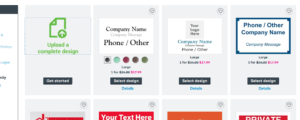 Step four – fill in the text you want :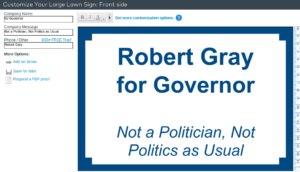 Click Next.
Step five – Click Edit on the 'other back side options'
It should show the same design for the back. Click Next.
Step six – Check the box beside 'I have reviewed and approve my design' and then click Next.
Step seven – You can sign in, create an account or click "Continue as Guest"
Step eight – Select your quantity – whatever you can afford or are willing to spend.
Click Continue.
Step nine – Click the circle beside the free stand (or not, up to you.)
Step ten – Click "Go to Cart" to skip the offers for more stuff to buy.
Step eleven – Review the cart and click Check Out and pay. The sign should be on the way!
I will be offering a custom design a little bit later.